CAMRA Pub Discount Scheme's
Click this link to CAMRA NATIONAL VOUCHER SCHEME whatpub listings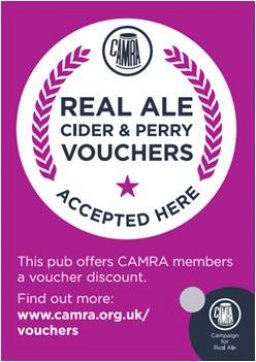 The CAMRA Voucher scheme is a member benefit that entitles members to £30, sixty vouchers of fifty pence, off a pint of Real Ale, Cider or Perry. It complements the existing Real Ale Discount Scheme and is a bigger and better voucher scheme for our members

All new and renewing CAMRA members will now receive:
£30 (60 x 50p) worth of CAMRA Real Ale, Cider and Perry Vouchers Redeemable at over 1470 pubs nationwide, including J D Wetherspoon, Stonegate, Brains and Castle Rock managed pubs
All vouchers will be valid for the length of membership for added flexibility
Find out more and full Terms and Conditions below.
All existing Wetherspoon vouchers are still valid during the next 12 months.
The CAMRA Voucher Scheme is in addition to the Real Ale Discount Scheme where around 3500 pubs offer great discount benefits to membership card-carrying CAMRA members.
Voucher redemption: Each voucher is stamped with a start and end date and must be redeemed within this time. A membership card should be produced when using vouchers as proof of membership.

CAMRA promotes responsible drinking and thus encourages all vouchers to be used responsibly at all times.

Terms & Conditions of CAMRA Voucher Scheme:
Has a date on it showing validity.
Is valid at participating pubs in the UK.
Entitles the bearer to 50p towards the cost of a pint of real ale, real cider or real perry (hand-pull and bag in box only). This is subject to respective agreements with Pubs see point 13 below for specific agreements.
Is valid for CAMRA members only and is non-transferable.
Photocopies will not be accepted and if produced, the individual producing it may be liable to prosecution for fraud.
Cannot be used in conjunction with any other deals offered by the participating pubs
Only one voucher per pint redemption per visit
Member must show a valid membership card
No cash alternative is offered or implied
Subject to local licensing restrictions and availability at participating pubs.
CAMRA is not financially liable for redemption of vouchers and no cash refund may be made on these vouchers
Not redeemable by anyone under the age of 18
Specific offers that vary from point 3: Stonegate Pubs – 50p towards Real Ale (hand-pull) only. Brains – 50p towards Brains Real Ales (hand-pull) only.


Click this link to MEMBERS DISCOUNT SCHEME LOCAL whatpub listing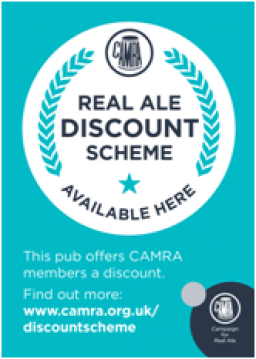 The Real Ale Discount Scheme offers CAMRA members discounts in thousands of pubs across the UK.*

CAMRA members can receive discounts from 10p off a pint to a whopping 10% discount across selected products on the production of a valid membership card. Pubs offer the discounts to encourage footfall and CAMRA members into their pubs to enjoy their real ales.

In order to find those generous pubs involved, simply visit whatpub.com. And search for pubs tagged with this symbol MemberDiscountScheme

Pubs participating in the scheme will also feature the Real Ale Discount Scheme window sticker – look out for this in your local (new design in pubs soon!).

*Please note that pubs reserve the right to remove an offer at any time and all offers are subject to change without notice.