Welcome to the Website of the Hull & East Yorkshire Branch of CAMRA
CAMRA
The Campaign for Real Ale (CAMRA) is an organisation of volunteers fighting for consumer rights within the pub-going sector. Our aims are to protect those consumer rights, to encourage the use of well run community pubs, and to promote the responsible enjoyment of quality real ale.

Committee Changes
Three committee members have recently retired after giving years of service to the branch: Angela Cawte (Chair), Bernie Cawte (Pub Mirror Editor, and Web Master), and Mark Bainton (East Yorkshire Pubs Campaign Officer). The branch is very grateful to them, for the time and effort that they have put in over the years.
Branch Committee
There are currently a number of positions vacant on the branch committee. It can exist with a minimum of four committee members, but really needs a miniumum of seven for it to operate effectively.
So, if you are a local CAMRA member, please consider applying for one of the vacant voluntary positions. If you are interested, or require more information, please contact Mark Spight: Email ku.gro.armac.lluh@sserp or Telephone 07904 252910
Membership
There are currently 1105 CAMRA members living in the Hull & East Yorkshire Branch area, but we are always on the lookout for more people to help the campaign...... and you could have a lot of fun whilst you're doing it! So if you enjoy real ale, good pubs and good company then why not join up?
Visit the Main CAMRA Website where you can see the benefits for yourself.
Website Updates
The Home page and Contacts page were updated on the 2nd and 3rd of April 2022, by Alan Canvess (a former Branch Chairman) on behalf of the three current branch committee members.
Beer Festival
CAMRA's Hull Real Ale & Cider Festival will not be taking place this year. Hopefully it will return in April 2023.
Latest News
CAMRA is currentlly celabrating the Summer of Pub campaign. Details of this campaign will be aded in early May 2023.

Pubs Matter Campaign
The #PubsMatter campaign was conceived by CAMRA and leading trade associations, but any campaigning group, trade association or person can - and is encouraged to - get involved!
There's some more information about the campaign, the groups involved and resources on the #PubsMatter website
Click here for Pubs Matter Website

CAMRA Celebrating 50 years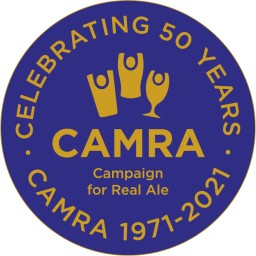 Campaigning for Pubs, Pints & People Since 1971
CAMRA is one of the most successful consumer organisations across Europe. Founded by four real ale enthusiasts back in 1971, today we represent beer drinkers and pub-goers across the UK. Our vision is to have quality real ale, cider and perry and thriving pubs in every community.
See our special 50th Anniversary section from the left hand menu.

.
Web Site updates:
Branch AGM 2020 minutes added to Members Section,
31st July 2021
Front page and Branch Diary updated
1st September 2021
Front page and Branch Diary updated
22nd September 2021
Front page and Pub News updated
24th September 2021
Front page and Cider News updated
2nd October 2021
Home Page updated
2nd, 3rd, and 7th April 2022 by Alan Canvess
Contacts Page updated
2nd, 3rd, and 7th April 2022 by Alan Canvess

Pub Mirror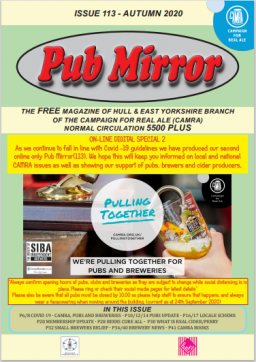 Click on image to go to Pub Mirror 113
Pub of the Season Award
If you are a CAMRA member and you want to nominate your pub for consideration for the future Pub of the Season award please send your nomination to ku.gro.armac.lluh@ofni