Hull & East Yorkshire Branch
Welcome...
This is the website of Hull & East Yorkshire branch of the Campaign for Real Ale (CAMRA) an organisation of volunteers fighting for consumer rights within the pub-going sector. Our aims are to protect those consumer rights, to encourage the use of well run community pubs, and to promote the responsible enjoyment of quality real ale.
Locally we now have over 1170 members but we are always on the lookout for more people to help the campaign...... and you could have a lot of fun whilst you're doing it! So if you enjoy real ale, good pubs and good company then why not join up?
Visit the Main CAMRA Website where you can see the benefits for yourself.

Branch Update
In recent weeks the various Governments and Assemblies of the UK have announced how their roadmaps will be progressing. How does this affect CAMRA Branches? AGM went ahead so thanks to all those who attended, it was great to catch up.
The next event will be a Social/ Open meeting on the 6th October 2021, with the emphasis on a social. We do need views on have the branch goes forward under the new 'normal, so why not come along and let us have your views. Further information will be posted on Social media and via this website and branch emails
Beer Festival
The CAMRA festival will not be taking place this year following guidance and will hopefully return in April 2022.
Latest News


This October we're celebrating apple and pear harvests, and the cider and perry community.
We're able to come together and hold physical events this October, and CAMRA has put together a map so you can find a cider and perry event near you. Submit your own event using the form below the timeline or check out the listings here.

You can also follow along with the timeline to learn about the community traditions that take place at this time of year, find out how the cider community adopted crowdfunding to support innovative new publications, read a host of new and exclusive CAMRA Learn & Discover content, and take part in a Cider and Perry Month campaign. You can join in on social media too, just use #CiderMonth, #NotFromConcentrate or find us on Twitter and Facebook.

You'll need to book in advance for some events and tastings. Make sure to look ahead in the timeline so you don't miss out!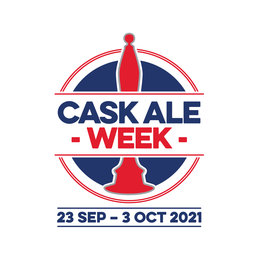 .
The Campaign for Real Ale (CAMRA) joined industry bodies calling for support for pubs, bars, pubcos and breweries to mark this year's Cask Ale Week, which was from 23 September to 3 October, as part of their comeback following the coronavirus pandemic.
CAMRA has long supported Cask Ale Week, an initiative which calls on pub-goers to choose cask–conditioned ale and aims to promote locally produced cask ale. The past year has been devastating for the industry and has been especially hard on the sales of hand-pulled cask beer, which can only be served in pubs. With a limited shelf-life compared to other beverages, cask beer is the freshest beer available and a uniquely British product – however, sales of this fresh British beer are down 70% over the past year.
It is vital that the industry is provided with much needed support, for local breweries as well as pubs and clubs, so that they can survive and thrive.
CAMRA Chief Executive Tom Stainer says: "After an incredibly difficult year for the industry, we're looking forward to joining forces to support and promote UK pubs and breweries. "Pubs matter and are a vital part of our communities up and down the country. What's more, the pub is the only place you can get fresh cask ale from your local brewery. We are urging everyone to celebrate Cask Ale Week in style, by getting back down to their local pub, social club or brewery taproom and enjoying a pint of cask ale."
Other bodies involved in the initiative included Cask Marque, the British Beer & Pub Association, UKHospitality and SIBA.
To learn more about Cask Ale Week, you can visit https://caskaleweek.co.uk
Pubs Matter Campaign
The #PubsMatter campaign was conceived by CAMRA and leading trade associations, but any campaigning group, trade association or person can - and is encouraged to - get involved! There's some more information about the campaign, the groups involved and resources on the #PubsMatter website
Click here for Pubs Matter Website

2021 HRACF Cancelled
If there are no radical alterations imposed on us from a higher level, the HRACF will be back at Hull Minster in April 2022 (28th to 30th). We look forward to seeing you there.
Full statement click here
CAMRA Celebrating 50 years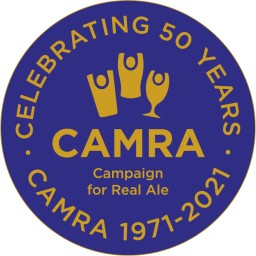 Campaigning for Pubs, Pints & People Since 1971
CAMRA is one of the most successful consumer organisations across Europe. Founded by four real ale enthusiasts back in 1971, today we represent beer drinkers and pub-goers across the UK. Our vision is to have quality real ale, cider and perry and thriving pubs in every community.
See our special 50th Anniversary section from the left hand menu.


.
CAMRA Hull Branch on Twitter
Follow hullcamra on twitter
CAMRA National Twitter feed
Follow CAMRA_Official on twitter
Click the logo to go on the branch Facebook page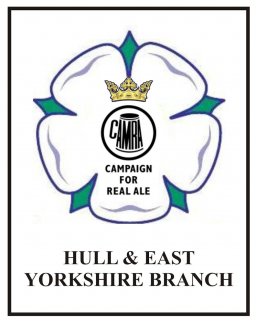 Email the branch at ku.gro.armac.lluh@ofni
Pub of the Season Award
If you are a CAMRA member and you want to nominate your pub for consideration for the future POTS award please send your nomination to ku.gro.armac.lluh@ofni

Web Site updates:
Branch AGM 2020 minutes added to Members Section,
31st July 2021
Front page and Branch Diary updated
1st September 2021
Front page and Branch Diary updated
22nd September 2021
Front page and Pub News updated
24th September 2021
Front page and Cider News updated
2nd October 2021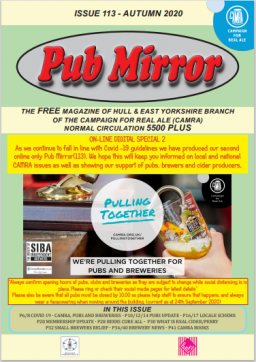 Click on image to go to Pub Mirror 113