GBBF 2021 at your Local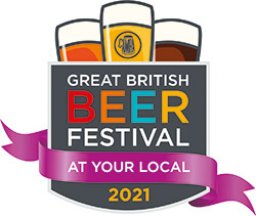 With the absence of a single Great British Beer Festival event this year due to uncertainty of COVID restrictions, CAMRA plans to use the brand to encourage people into licensed premises.
This will take place in the first week of August (30th July – 8th August)

To do this we are encouraging licensees to hold events and activities celebrating live beer and real cider under the Great British Beer Festival at Your Local brand. We will be promoting these events nationally and locally to our members using our internal and external communication channels.

This is a campaign that hits right at the heart of CAMRA, and it aims to:
• Assist licensees by encouraging footfall.
• Assist brewers by increasing demand.

About the campaign
The main thrust of the campaign is to encourage pubs, clubs, breweries and cider makers to hold live beer (and cider) related events and activities in early August/late July. These activities don't have to be large and range in scale including, but not limited to special guest beers, mini beer festivals, brewery tours, promoting cask conditioned beers, promoting real cider, meet the brewer sessions and tastings. Anything that celebrates live beer and cider.

What will CAMRA do?
Advertise the events using our communications channels, and encourage our members and general public to attend events.
Setup an event portal on our own website and at national level using the local.gbbf.org.uk for comprehensive list of events.

What are we asking licensees do?
Put on an event or activity, or multiple events, during the week, all we ask is that the activity involves real ale or cider in some way.
Advertise your event and the campaign generally by using the digital platform and supplied marketing materials and to Display CAMRA recruitment materials during the event and post-event.
Allow CAMRA branch volunteers to champion CAMRA's work and recruit new CAMRA members at an event, as and when feasible to do so.

For further information, and/or to register your interest in participating, please email: ku.gro.fbbg@lacolFBBG

LOCAL EVENTS
GBBF 2021 at your local - Hull
GBBF 2021 at your local - Bridlington
GBBF 2021 at your local - Driffield.
Further information about local events to follow, if you have anything planned please contact this branch at ku.gro.armac.lluh@ofni, thank you